Per Pay Click advertising is a model of Internet marketing where advertisers pay a certain amount each time their ad is clicked on. Pay Per Click advertising works on different platforms such as, Google, Bing, or LinkedIn.
Highly effective, advertisers can bid for ad placement in a search engine's sponsored links when a potential customer searches on a keyword that is directly related to a business's service or product. See an example of an ad that could appear in Google.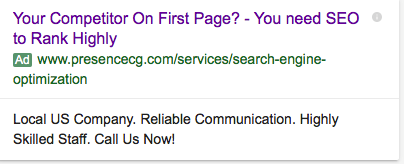 Everyday, thousands of customers are using search engines to look for products or services like yours, and with many competitors in the cyber world it is important your customers connect with you.  Having your ads clearly displayed is a great way to reach your customer. In addition, using Pay Per Click in digital marketing we can precisely target your desired customer using keywords that are part of your offering.
Finally, compared to traditional advertising, digital marketing using PPC is simply an effective choice for today's businesses to reach millions of potential customers at a fraction of the cost of traditional – TV, Magazines,  Radio – marketing, allowing you to compete with highly financed companies.
We do the following for you based on your needs: